Need a
licensed electrician

for your commercial or industrial project?

We are here when you need us. Our reputation is built on quality workmanship, fair rates and excellent customer service.
Top Quality
Protecting your investment
25+ Years Experience
Many longtime customers
Quick Turnaround
Start and complete on time
Great Customer Service
Customer satisfaction is a priority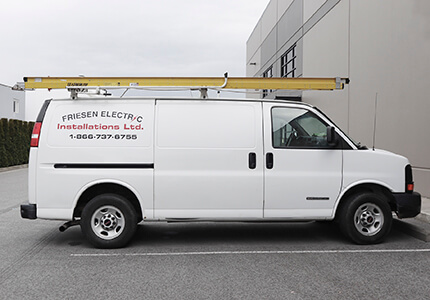 Local
Expertise

You Can Trust.
Friesen Electric Installations Ltd. has a long history in the Fraser Valley and many loyal customers that have relied on our services for over 20 years. Our skilled team of licensed electricians combines modern day knowledge with generational experience.
After his first professional years as an electrician, Byron Wiebe joined Friesen Electric Installations Ltd. in 1993. After working with the company for over a decade, Byron took over the business from the previous owner in 2007. Since then he has been continuing the company's successful tradition in the Fraser Valley.
BYRON WIEBE, Owner & Manager
Electrical Services We Offer
A full suite of electrical services with quality, customer service and safety in mind.
Industrial Electrical Service
Installing and maintaining motors and motor controls, wiring of large main service installation and upgrades, servicing lumber mills, food processing plants and more.
Commercial Electrical Service
Wiring of main service installation and upgrades (underground and overhead), LED lighting upgrades, store renovations, refrigeration power wiring and more.
Agricultural Electrical Service
Main service installation and upgrades, wiring of new barn builds, lighting upgrade and installation, servicing dairy and poultry farms, greenhouse and more.
Residential Electrical Service
Custom home wiring, AC installation, pool and hot tub wiring, suite wiring, home service upgrades, diagnosing electrical issues and more.
RV Park Electrical Service
Electrical site preparation for RV sites, septic system wiring, electrical system property maintenance incl. pumps, pole lighting and more.
Other Electrical Service
Overhead pole line installation and repair, bucket truck services, underground power, cable tv installation, main service conduit installations.
Some of our
Electrical

Projects

We have been helping clients with electrical installations for over 25 years in the Fraser Valley.
What Our
Customers

Say

Check out some of our clients' reviews.
Over the years Byron & Team have been critical in helping us grow our manufacturing business through the installation of new equipment, refurbishing electrical components on old equipment, and reducing our downtime by having someone on site in a hurry. They have a great crew that works hard, we couldn't be happier with their services.

We have used Friesen Electric Installations on our projects over the years because they have proven to be reliable and honest. When there were issues that arose with the control panels, the electricians were able to troubleshoot and solve the problem with minimal down time. Byron was able to design the electrical services with farm growth in mind.

Friesen Electric Installations is a company you can count on 24/7. Very reliable and affordable. If you have electric needs this is your company to call. Byron has always taken care of all our needs here at Canadian Tire. Awesome staff.
Want to get started? Request your free Quote